BusinessWeek
and
The Huffington Post
both wrote yesterday that online ad spend is going into the gutter, in particular on social networks. I have blogged quite a few times about how the banner/display ad business has not been showing results, so it is no surprise that they are the first plug that gets pulled in a downmarket.
On the other hand, EMarketer just published numbers, that
"video ad spending will run counter to overall economic developments, rising by 45% in 2009 to reach $850 million."
Why? Video ads work. People don't mind watching video prerolls before good video content, while they blithely ignore banner ads.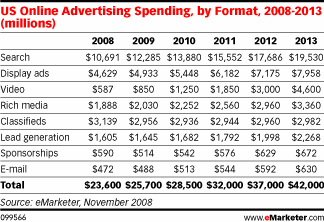 I am in full agreement with BusinessWeek and The Huffington Post that banner ads do not work at all on either social networks or websites. eMarketer's data shows that ad spend growth will be in video advertising, which bodes well for companies with video content, and especially well for social networks, where videos are one of the most viral types of content.